Commercial HVAC Repair Services: Expert Solutions for Your Business
When your commercial HVAC system breaks down, it can bring your business to a standstill. But don't worry; we're here to help. As a family-owned HVAC company with over a decade of experience, we understand the urgency of your situation. That's why we provide fast, reliable, and high-quality repair services.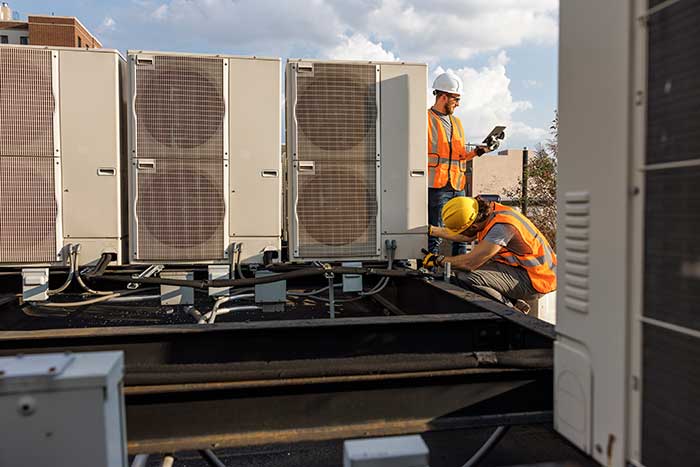 The Best Commercial HVAC Repair Services
We are experts in repairing all types of commercial HVAC systems, including rooftop units, split systems, package units, and more. Our team of experienced technicians will diagnose the problem quickly and provide you with an upfront estimate. We understand that every business has different needs, so we tailor our solutions to fit your specific requirements.
Our commercial HVAC repair services include:
Emergency repair services available 24/7
Diagnostics and troubleshooting
Compressor repair and replacement
Refrigerant leak detection and repair
Motor repair and replacement
Electrical component repair and replacement
Thermostat repair and replacement
Cleaning and maintenance services
Preventative Maintenance for Commercial HVAC Systems
We believe that prevention is better than cure, which is why we offer preventative maintenance services for commercial HVAC systems. Regular maintenance helps to prevent breakdowns, reduce energy consumption, and prolong the lifespan of your HVAC system. Our maintenance services include cleaning, filter replacement, lubrication, and inspection of all components.
With our maintenance services, you can expect:
Improved energy efficiency
Reduced repair costs
Extended lifespan of your HVAC system
Improved indoor air quality
Contact Us Today
We understand that downtime can cost your business money, which is why we provide fast and reliable commercial HVAC repair services. Contact us today at (503) 259-3200 to schedule an appointment with our expert technicians. Don't forget to follow us on Facebook for the latest updates and promotions. Let us help you keep your business running smoothly with our expert HVAC solutions.